Skip to Content
Furnace Tune Up in Phoenix, AZ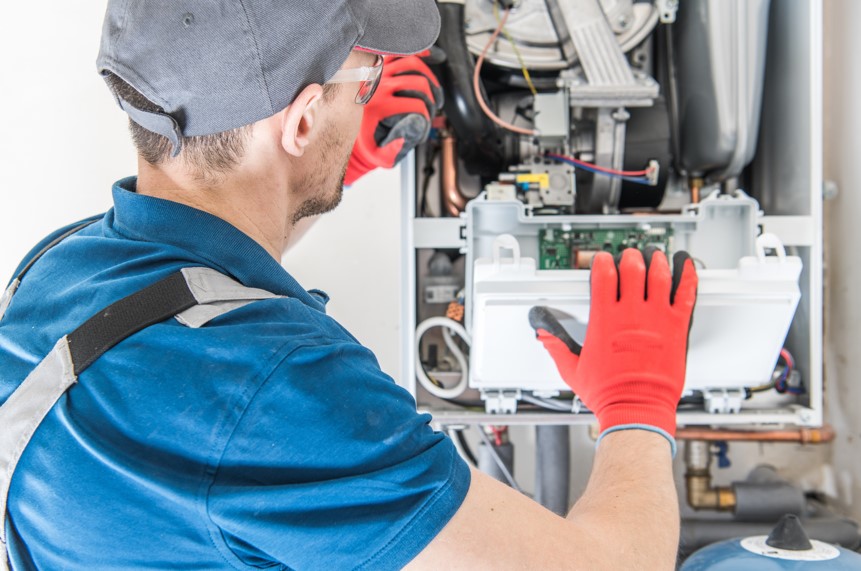 When the first leaf falls onto the ground, you know cold will soon crawl into your house. Walking barefoot isn't an option anymore, and keeping the window a bit too long might get you sick. Before you fetch your throw blanket from the attic and put a kettle to boil, there is one thing that slipped your mind this month – furnace tune-up.
It's evident that people immediately call replacement services when a part of their furnace ceases to work when they need it the most. However, and we won't stop repeating ourselves, regular maintenance check-ups cost way less and will prevent your furnace from breaking down.
But we get it, some people simply don't have time or money to get their furnace checked every few months. Therefore, we would like to introduce a service many in Phoenix, AZ, will find practical and affordable – the heater tune-up.
Keep reading to learn when you will need to run the heating tune-up and what is included in the service.
Why You Need a Tune-Up
The heater tune-up is a slightly different procedure from a preventive maintenance service. A tune-up prepares your furnace to work properly when the temperature drops below zero so that it doesn't accidentally shut down. The best time to conduct a furnace tune-up is early fall, right before cold strikes.
You may allow yourself to forget about the heating tune-up when you've just had a new HVAC system installed. However, it may be a big mistake to make when your furnace has been serving you for years.
Annual inspections and heater tune-ups are likely to prolong the lifespan of your system and save you money on buying a brand-new furnace that can now be quite pricey when you think of purchasing a device and installing it.
Reduce the risk of failure
Tuning-up your furnace also means our professionals "get it ready" for the cold season. In other words, your heating system will have a lower risk of breaking down. Our technicians never leave the site until they are sure your furnace is powerful enough to distribute the heat throughout your entire house.
Increase efficiency and performance
Another crucial reason to tune up your furnace is to lower the costs. There is an underlying reason why your heating bills are devouring your money every winter. If, looking at the bills issued for the past few winters, you notice a jump in costs, then most likely your furnace is consuming more energy than it needs but, at the same time, isn't able to produce heat efficiently.
To prevent furnace failure and higher costs, don't postpone the heating tune-up. In the long run, you won't need to worry about freezing at home or taking a loan to purchase a new HVAC system.
Furnace Tune-Up Services
When you schedule a heater tune-up, you should expect the service technician to:
– Tighten, adjust, or replace belts
– Lubricate moving parts
– Tighten electrical connections
– Inspect exhaust system
– Test system controls
– Clean or replace air filter
– Adjust burner
– Test connections to gas or oil lines
– Check for carbon monoxide leaks
– Calibrate the thermostat
Upon your call, we will provide you with a full checklist of what our tune-in service entails.
Meadow Furnace Tune-Up Specials
Apart from regular tune-up service, Meadow Air offers specials. Our professional technicians can tune up your furnace and clean coils from debris and dust that have accumulated there. Cleaning coils is another important part of heater maintenance, as it may also affect efficiency and power.
If your heater hasn't been maintained for a long time, the tune-up with coil cleaning is a great and affordable combo. You will notice that your furnace produces heat faster and doesn't over consume energy.
If you are planning on purchasing a furnace tune-up, consider this offer that comes with cleaning so that your heating system works as new and with a better performance.
Meadow Air offers specials that are not limited to tune-ups only. You can also find cheaper discounts on repairs or upgrades.
What's more, if you are in need of any service but can't afford it at the moment, consider giving us a call. We offer special financing options to our customers.
How Often Should You Schedule a Furnace Tune-Up?
The frequency of tune-ups depends on the age of your furnace. If you have just installed a new heater, getting it checked once a year will suffice. After all, there isn't much that could go wrong with it.
On the other hand, if your furnace has been in use for a few years already, make sure to have it inspected at least twice a year. This is especially important if you haven't conducted any maintenance.
We recommend that you have a tune-up at least once a year, even if you don't see any noticeable changes in operation. Wear and tear is inevitable, but the most pressure your heater experiences is during the heating season. This means if you skip a year and decide to run the furnace, its components may break due to their deteriorated condition.
You can do a heater tune-up yourself; however, if you lack experience, it is better to hire a certified technician from Meadow Air. We run a comprehensive tune-up of the furnace and its components.
How Do I Know If My Furnace Is Broken?
There are many signs that could indicate that your heater is broken. If you notice any of these issues, it's time to call a professional:
You notice a strange odor (e.g., burned plastic or fuel) when the unit runs.
Your furnace doesn't ignite immediately and needs to be started multiple times.
The pilot light is any color other than blue. A different color (e.g., yellow) indicates problems with ventilation or carbon monoxide leaks.
Your thermostat is set at a temperature that your furnace fails to reach.
Loud or strange noises (e.g., whistling or squealing) coming from the furnace when it's running.
If your furnace is dusty, it may spread bacteria and dirt through the heated air. You may notice more dust particles, start coughing, or have breathing problems.
The carbon monoxide may go off. In this case, immediately turn off the furnace, open windows, and contact a certified technician.
Should I Get a Furnace Tune-Up from the Company That Installed It?
Contacting the same company that installed the furnace or hiring someone else would make no difference. Experience and skills are what you should pay attention to, instead. The HVAC company you hire should be qualified to tune up your furnace – otherwise, you may lose the warranty as some manufacturers require maintenance done by certified technicians only.
Different technicians use their proven techniques and equipment to perform a tune-up. You may consider getting in touch with Meadow Air so that we inspect your furnace this year. It isn't uncommon for people to overlook issues. We might spot a faulty component that the previous technician couldn't.
Regardless of who you decide to hire, make sure that your HVAC company of choice is reputable and has a spotless record.
At Meadow Air, our professional technicians have dealt with all the problems of furnaces of older and newer generations. Moreover, we approach our work and customers with respect and with one goal in mind: to restore your furnace' condition.
With an expert team like ours, you can save money long-term and enjoy the warmth of your house every single winter.
Summary
Winters are unpredictable, but one thing you can ensure is the performance of your furnace. Your HVAC system should always be in a pristine condition, and to ensure it, you need to maintain it.
Before winter starts, get in touch with Meadow Air and book a heater tune-up appointment. The best time to inspect your furnace is early fall so that there is enough to repair or replace any part that has started to malfunction.
A furnace tune-up service will improve the heater's efficiency, lower running costs, and prolong the lifespan of your system. These and more benefits come from a once-a-year service appointment.
Getting your furnace serviced in Phoenix, AZ, is quick and affordable with Meadow Air. Use our special offers or give us a call now to schedule an appointment.
Call Today Your Number One HVAC Company In The Valley