Skip to Content
Professional AC Maintenance & Repair Services in Phoenix
HVAC Service from Meadow Air
When you need HVAC maintenance or repairs in Arizona, trust the experts at Meadow Air. We offer AC maintenance, air conditioning repair, and more to keep you cool and comfortable during the hot summer months. HVAC repair can keep your energy bills down and extend the lifespan of your AC unit. We also offer HVAC installation services when the time comes to replace your air conditioner. Don't hesitate to get in touch with us if you have any questions or are ready to schedule maintenance or repairs for your air conditioning system.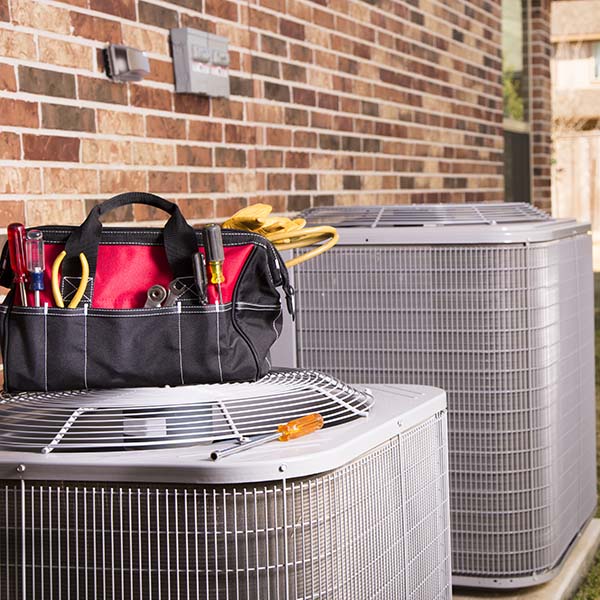 Comprehensive Air Conditioning Maintenance Services
Keep your home's air conditioner working at its peak by taking advantage of regular maintenance from Meadow Air. Regular AC check-ups can extend the lifespan of your HVAC unit and prevent unexpected and costly surprises from popping up.
Air conditioners have many parts that work together to keep your home cool. If any one of those parts fails, the whole system can be thrown out of whack. Catching minor problems early on starts with preventative maintenance appointments. Maintenance will also ensure your system runs efficiently and saves you money on energy bills. Something as simple as changing your filters can reduce your home's energy consumption by up to 15%.
If it has been more than 12 months since your last AC maintenance visit, you might benefit from scheduling one with Meadow Air – the team of experts in AC maintenance Phoenix.
Common Air Conditioning Issues
There are many things that can go wrong with your home's air conditioner, but thankfully many of them can be fixed so you can get back to your life and not have to worry about staying cool. Be sure to contact us if you notice loud noises, humming, or foul odors coming from your AC unit. Check out these other common AC issues:
Warm or Insufficient Air – A simple fix to this solution may be checking for closed vents. A warm home could be a sign that your HVAC unit is too small and struggles to keep you cool. Clogged air filters can make homes too warm, and bad fans or motors can also be to blame.
Water Leaks – If you notice water leaks inside your home, you might have a clogged condensate drain line. If water pools up around your HVAC unit, you may be dealing with a clogged air filter. Our team can determine the exact reason for the problem and solve it right away.
AC Fan Problems – Sometimes, a breaker will be tripped, and your fan will stop working. If that isn't the problem, you may be dealing with frozen coils, bad fan belts, bad capacitors, dirt, grime, or rust. Our team is experienced in repairing HVAC electrical and fan issues.
AC Won't Turn On – If your air conditioner won't turn on at all, the thermostat may have dead batteries or might not be set correctly. Your air filter may need to be replaced or cleaned. You could also be dealing with a thermostat short, a stuck fan relay, or other issues.
Benefits of Regular Maintenance Check-ups
Similar to other aspects of life, prevention in AC maintenance can save you a lot of stress, costly repairs, and unnecessary time spent in discomfort while your AC system is broken. There are many benefits of doing regular AC maintenance check-ups, one of the most important ones being the ability to address some minor issues before they become the more expensive repairs.
Air conditioner repair, as well as repairs caused to your interiors by its malfunction, may be costly to fix if done when the problem is significant – for example when there's a need to repair the damage water leak caused. AC repair performed during maintenance visits can extend the life of your equipment and decrease the risk of unexpected damages.
Trust the best professionals in AC maintenance Phoenix AZ and schedule regular maintenance check-ups with us to ensure you're ahead of any issues.
What to Expect During AC Maintenance Service
We'll be able to detect and fix any issues that may influence the quality of work of your cooling system.
We can provide you with the necessary materials, like filters or refrigerants.
We'll clean and unclog any blockage in your AC system.
We'll perform tests to check if the AC repair went successfully and if there are any other issues that could have been overlooked in the initial inspection.
We can assist you in improving your AC equipment and answer any questions regarding how to use and maintain it properly.
Comprehensive Air Conditioning Services
Our experienced team of air conditioning experts offers AC installations, repairs, maintenance, and air quality solutions. We can upgrade your AC system with a ductless system as well. We proudly install and service the top AC brands, including Carrier, Goodman, Lennox, Trane, York, Amana, and Daikin. It all starts with a thorough exam so we can determine whether you require repairs, maintenance, or complete replacement. Contact us today to learn more or schedule a service.
Call Today Your Number One HVAC Company In The Valley