Skip to Content
The Meadow Air system provides state of the art heating & air conditioning that won't break the bank. With its ultra-efficient inverter technology, ultra-quiet sound levels and small size, it's sure to be a fit for any home. Talk to your contractor about what options are available to best suit your needs.
Benefits
Inverter Technology
Highly Energy Efficient
Increased Comfort Level
Slim Style Design
Uses Less Space Than a Traditional AC Unit
Low Sound Level
Goldfin Coil Coating for Extended Protection
Peace of Mind Warranty
Technology Compressor The Condensing Units and Heat Pumps are capable of regulating the compressor motor speed to quickly adjust and maintain a precise temperature at a lower compressor speed while making the unit more energy efficient.
Has Efficiency Ratings up to 20 SEER Seasonal Energy Efficiency Ratio (SEER) is the rate by which all air conditioning and heat pump energy efficiency are measured. In the world of cooling, the higher the SEER, the better the efficiency and the lower your energy bills.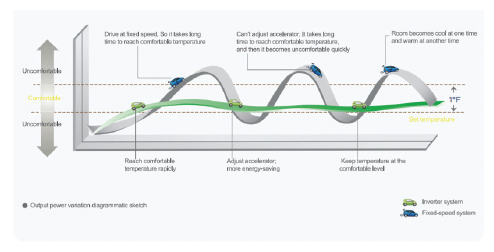 We Know Your Space is Valuable The slim style design is about half the size or less than a traditional style condensing and will occupy less space.
Sound Level as Low as 59db
Peace of Mind Warranty
Warranty : 10 years Compressor/Parts