Skip to Content
Heater Maintenance and Repairs in Phoenix
Professional Heating Services from Meadow Air
If you've lived in Arizona for any length of time, you realize how essential it is to have an air conditioner that works correctly. Meadow Air provides AC installation services to ensure your family stays comfortable. Whether you need your current air conditioner replaced or you are having one installed for the first time, you can count on our team to get the job done right. Summers can be pretty brutal in the Valley, so having an energy-efficient air conditioner can not only keep you cool but save you money on your electric bills. Our HVAC installation services include some of the best brands in the industry, such as Carrier, Goodman, Lennox, Trane, York, Amana, and Daikin. We also offer air conditioning service and maintenance. Learn more about our AC installation services and get in touch with us to schedule an appointment.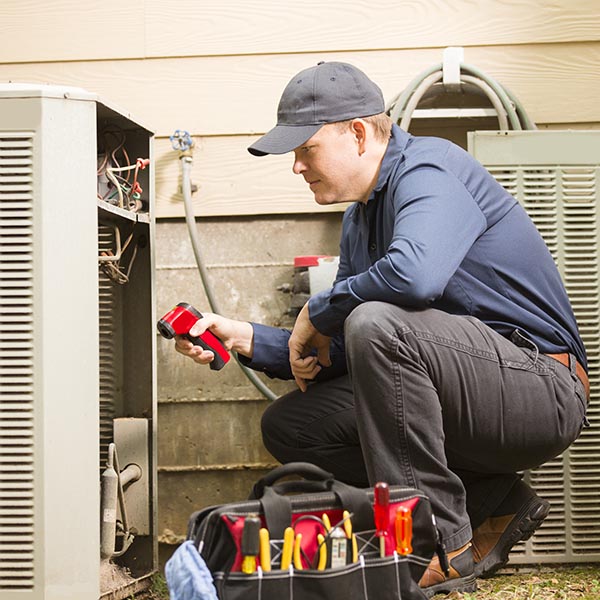 Why Heater Maintenance Is Important
These days it's easy to overlook essential services such as heater maintenance. If you neglect your heating system, you can't expect it to keep working correctly over the years. Our maintenance inspections allow us to get ahead of potential issues before they become more expensive and significant. Keeping your heater properly tuned up will also save you money each month on energy costs. During a furnace maintenance appointment, our team will inspect airflow and fan controls, electrical connections, burners, safety controls, gas lines, condensate drains, and the heat exchanger.
What Does Heater Service Entail?
The heating system at your home or business should have an annual inspection and tune-up before the winter begins. Our heater service appointments include tightening or replacing belts, lubricating moving parts, conducting an amp-draw test, ensuring proper thermostat calibration, and other routine maintenance. We'll give you our detailed findings and any recommendations we have for your heater.
The Benefits of Heating Maintenance
Home heater maintenance is something that many homeowners tend to overlook. The problem is that most people do not realize how important it is and are too preoccupied with their daily routines that they forget about it until something goes wrong. Heating maintenance can be relatively simple, but it needs to be done regularly in order to keep the heater running smoothly.
So if you are wondering if your heater needs maintenance, consider the many benefits it can provide. Keeping the elements of your heater clean can help the system run more efficiently, last longer, keep the air inside your home or business clean, and allow for safer operation. A well-tuned heater can also save you money each month on energy bills.
Signs Your Heater May Need Repairs
Some homeowners may not be aware of subtle signs that their heating system is having trouble or is starting to have a problem. On the other hand, some homeowners may be aware that something is wrong with their heater but are not sure what exactly it is.
If you believe your heating system needs repairs or even replacement, keep an eye out for these signs:
The heater is producing odd odors. Check the air vents in each room of the house to see if there are any odors coming from the vents. A bad smell like burning plastic or rubber could indicate a problem with the motor or blower.
The heater is not providing enough heat. If your home isn't as warm as it used to be, or if certain rooms are warmer or cooler than other rooms, there could be a problem with the heating system. Also, check the air vents in each room; if they feel cool to the touch, that means little or no heat is coming from them.
The heating bills have gone up noticeably. An increase in your electricity bill could indicate that your heater is working harder than usual because it's not operating at peak efficiency (perhaps due to being old). This can also lead to increased wear and tear on the system, which may shorten its lifespan overall.
The heater makes unusual noises like banging, popping, squealing…etc. These noises indicate that the system is in need of repair.
The heater is less effective than it used to be. An inefficient heater will not heat your home effectively, even when it runs continuously.
The blower fan doesn't turn on or turns on but doesn't blow any air. This could be due to a clog in the system, a bad switch/motor, or something else.
The heater turns on and off frequently. A faulty thermostat, clogged air filters, or inadequate insulation could be preventing your system from maintaining the desired temperature.
Keep in mind that even a small sign means your heater needs repair. Any time you notice the need for heating repair in Phoenix, AZ, give us a call to schedule an appointment.
One thing you can do yourself is to be sure to replace your air filters each month to ensure better air quality and allow your system to work easier.
Heater Repair vs. Replacement
The team at Meadow Air offers both heater repair and replacement services based on your needs. The age of your heater is one of the most important considerations. Furnaces that are ten to 15 years old are likely on their last legs, and repairing them just wouldn't make sense. Replacement costs more than repair, but the long-term investment should be considered. Keeping your older heater running will cost quite a bit, and newer units are more energy-efficient, which will save you money each month on electricity bills.
Schedule Heating Maintenance or Repairs Today
Now that you know more about heating repairs and maintenance and why these services are so valuable, it's time to get started. We proudly install and repair some of the top brands in the heating industry, including Carrier, Goodman, Lennox, Trane, York, Amana, and Daikin. We can help you determine whether you need heating repair or replacement and if a ductless system would be right for your home in Arizona. Contact us today to get your heating system serviced.
Call Today Your Number One HVAC Company In The Valley