Skip to Content
How to Deal with Common AC Leaks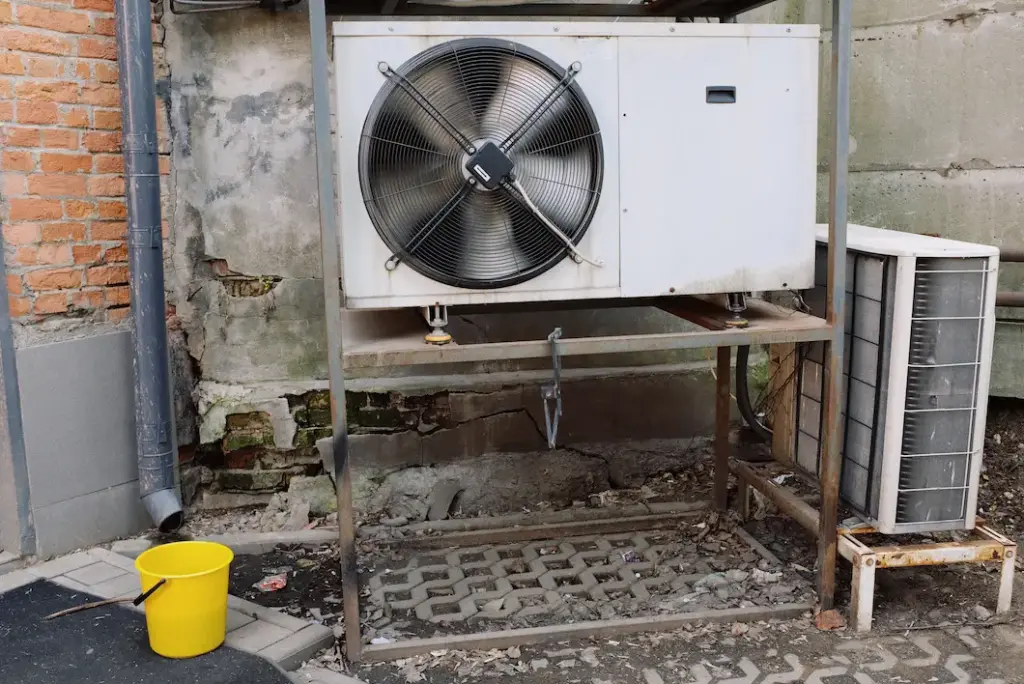 Is your AC unit leaking water? If it is, and you're not sure what's causing the leak or how you can go about dealing with it, dont worry: this comprehensive guide will walk you through some of the most common AC leaks, how they happen, and what to do about them.
Common AC Leaks and How to Fix Them
A key point to remember is that anytime you DIY an AC repair, make sure to take the necessary safety precautions.
This includes wearing protective eye gear and clothing, and of course, make sure to turn off the power to your unit before you start working on it. If possible, disconnect the complete system from the power grid.
Also, ensure that you're working in a ventilated and well-lit area.
With that in mind, here are some common AC leaks and how you can fix them.
Clogged Drains
The condensate drain line is where the AC unit drains the excess moisture it removes from the air. Over time, it can become clogged with dust, dirt, sludge, or even mold.
This blockage can cause the water to back up into your indoor unit, leading to leaks. The water backup, if left unchecked, could potentially cause water damage to your property and even encourage mold growth, posing health risks.
Solution
Use a Wet/Dry Vacuum:

You can use a wet or dry vacuum to clear the clog in the drain line. Remove the paper filter from the vacuum before you begin to avoid ruining it.

Close and Unclog the Drain Line:

Locate your drain line, which is typically a PVC pipe near the condenser unit outside. Clear it by using a funnel to send a solution of warm water and bleach down the drain line in the opposite direction of the normal condensation flow.

Install a Condensate Pump

: A condensate pump aids in pushing the water outside if there is difficulty in the drainage process due to the nature of the pipes.

Use a Drain Pan Tablet:

This product can help keep the drain clean. It is a tablet that you put into the drain pan, and it works by preventing the build-up of algae and other substances that could clog the drain.

Replace the Drain Line:

In extreme cases where you're unable to clear the clog or if the drain line is damaged, you may need to replace the drain line.
Damaged or Worn-Out Components
Physical damage to AC components, like the condensation pan or the drain line, can cause leaks.
For example, if your condensate pan is cracked or rusted through, the water could escape, causing a leak. The same goes for a damaged or cracked drain line.
Even beyond leaks, damaged components can often lead to a decrease in your AC's performance, meaning it will need to work harder, thus consuming more energy.
Solution
If you're dealing with damaged or worn out components, that means they need replacing.
For example, if you're dealing with a leaky condensation pan, look for any visible signs of wear, rust, or damage. Small cracks or holes can often be fixed using a water sealant or epoxy. For more extensive damage, you may need to replace the pan entirely.
Keep in mind that while you might be able to replace or repair some damaged or worn out components yourself, others may be beyond your expertise.
If you're unsure whether or not something is safe to repair yourself, contact Meadow Air to schedule an appointment with our technicians. They'll be able to assess the damage and help you determine what repairs need to be made.
Clogged or Dirty Air Filters
The work of air filters is to trap dust, dirt, and other airborne particles to keep your indoor air clean. However, over time, these filters can become clogged with debris. When this happens, air can't flow properly through the system, which can cause the evaporator coil to freeze.
Once the AC unit shuts off and the coil begins to defrost, excess water can overflow from the condensate pan, leading to an AC leak. If this situation is ignored, aside from leaks, it can lower the efficiency of your AC unit and make for a less comfortable climate in your home.
Solution
Clean or Change the Air Filters:

Remove the air filters.

Clean them with a vacuum to get rid of loose dirt. If extremely dirty, wash with warm water and mild detergent, avoiding harsh cleaners. Let them air dry fully before reinstalling. If they are worn out or damaged, replace them.
Make sure to check your air filter regularly, cleaning or replacing it as needed. The frequency of replacement can depend on the type of filter, the cleanliness of your home, whether or not you have pets, etc. In general, it's recommended to replace disposable filters every 1-3 months.
Upgrade Your Air Filters:

If you're finding that your filters are clogging quicker than they should, you may want to consider upgrading to a more efficient filter. HEPA filters, for example, can trap more and smaller particles than conventional filters. This may help improve overall air quality and promote better operating efficiency for your AC.

Balance Your Home's Humidity:

High humidity can make your air filter get clogged and dirty faster. Using a dehumidifier could assist in reducing the work your filter needs to do.

Limit Indoor Pollutants:

Try to minimize the amount of dust and pollutants in your home. Vacuum and dust regularly, limit indoor smoking, and brush your pets outside, if possible.




Through these steps, you can keep your air filters functioning well, reducing potential AC leaks, and preserving the health of your overall AC system.
Refrigerant Leaks
An AC requires refrigerant to cool the air. If there's a leak in the refrigerant line, not only does it mean your AC won't cool effectively, but you're also losing refrigerant fluid, which can harm the environment.
Refrigerant leaks occur when seals and coils that hold the refrigerant corrode or deteriorate over time, leading to a slow leak.
If left unchecked, you'll find yourself with increased electric bills and a less cool home.
Solution
Refrigerant leaks are typically problematic to handle by yourself due to the hazardous material involved and the technical knowledge required.
It's best that you hire a professional technician to fix the leak and recharge your AC system with the correct amount of refrigerant.
Improper Installation
If your air conditioning unit was not properly installed, it might lead to leaks. For example, an incorrectly sized or installed condensate pan won't catch all the condensation from your unit, leading to water dripping directly onto your floors.
In addition, if the refrigerant lines were not sealed properly during installation, a refrigerant leak is almost inevitable.
Solution
If the reason your AC is leaking is because the unit was not properly installed, it's best to call a professional technician to fix the problem.
Bottom Line
A leaking AC can be a nuisance. It can also lead to other problems, such as mold growth and structural damage. Make sure your AC unit is properly maintained so that it doesn't leak, and if it does, call a professional technician to fix the problem as soon as possible.
Frequently Asked Questions
How Can I Determine if My AC is Leaking?
There are several signs that may indicate your AC is leaking. These include:
A significant drop in cooling efficiency

Higher than usual energy bills

Pooling water around the indoor unit

Hissing sounds coming from the AC unit

An AC unit that needs constant refrigerant top-ups
Is an AC Leak an Emergency?
While an AC leak might not seem to qualify as an outright emergency, it should not be overlooked. Problems like these tend to escalate if not promptly dealt with. Over time, constant leaking can cause more severe issues, such as larger operational malfunctions or even extensive water damage. 
To avoid expensive repairs, it is highly recommended to consult with a professional whenever you observe an AC leak.
Can I Still Use My AC If It's Leaking Water?
Yes, you can technically continue to use your AC while it's leaking water, but it is not advisable. Water leaking may indicate a clogged condensate line or a rusty coil pan, which could further damage your AC system if not addressed. 
The leak may also damage the surrounding infrastructure. It is best to turn off your AC and call a professional to avoid these problems compounding and becoming more serious, and potentially more expensive to rectify.
Can a Refrigerant Leak Cause Health Problems?
Yes, a refrigerant leak can pose a health risk. Refrigerants are compounds typically found in a gas or liquid state and are largely used in air conditioning systems to cool indoor air.
When these substances leak, they often evaporate into gases, which can cause difficulty breathing, headaches, nausea, and, in severe cases, loss of consciousness. Chronic, long-term exposure can potentially harm the central nervous system and other essential parts of the body.
If I have a Refrigerant Leak, Should I Repair or Replace?
The decision to repair or replace in case of a refrigerant leak depends on several factors, including the age of the unit, overall operating efficiency, and the extent of the leak.
If your unit is relatively new, a repair could suffice. On the other hand, if your unit is older, it might be more cost-effective to replace the whole system. It's recommended to consult with a professional technician for personalized advice.
Can I Fix a Leaking AC Unit Myself?
While you may be able to address minor issues, such as changing filters or cleaning obstructions from the condensate drain line, an AC system is complex and requires professional knowledge to effectively diagnose and repair. For most leak issues, it is best to hire a licensed HVAC professional. DIY repairs can sometimes lead to more significant damage and more expensive repairs down the line.
How Often Should I Service My AC to Prevent Leaks?
Servicing frequency depends largely on the usage and age of the unit. However, bi-annual servicing is generally recommended for peak performance and longevity.
How Can I Prevent AC Leaks?
Prevention is always the best solution to avoid AC leaks:
Regular maintenance: Have a professional HVAC technician inspect your system regularly.

Timely repairs: If your technician suggests a minor repair during a service visit, don't delay it since minor problems can escalate over time.

Install a drain line back up prevention device: This can help to avoid any water leaks due to a blocked drain line.

Always ensure your air filters are clean and replaced regularly.
Don't Let a Leaking AC Ruin Your Day. Contact Meadow Air Today!
If you're experiencing issues with your AC or if you need help fixing a leak, don't hesitate to contact Meadow Air. Our skilled technicians are here to assist and provide quality, timely repairs. Call us today or visit our website to schedule an appointment.