Skip to Content
11 Quietest Air Conditioners (with Sound Levels as Low as 19 dBA)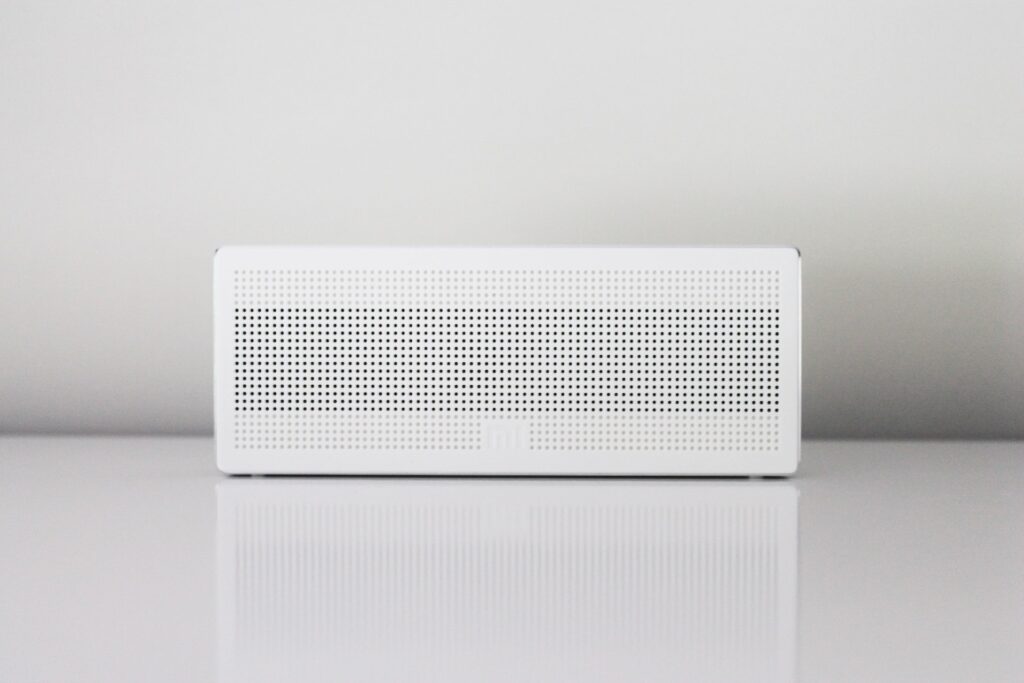 Are you worried that your new air conditioner is going to ruin your peaceful day or disturb your good night's sleep? Luckily, the technology in AC units has improved massively over the past few years. There are now super quiet air conditioners that work as silently as rustling leaves – almost inaudible.
Opting for one of these types is crucial if you cherish peaceful mornings. On top of that, breathing in cool fresh air when it is boiling hot outside is a luxury that is now in grasp. Or the other way around, when you can walk barefoot around your home in the middle of frosty winter!
This article will help you find the quietest central air conditioner. We have listed 15 models from reputable brands. Each of these brands has a strong reputation and quality AC units.
Daikin Emura FTXJ-AB
The first pick on our list is the Emura FTXJ-AB from Daikin. If you worry an AC unit might ruin your interior design – choose Daikin. This model is stylish and available in matt white, silver, and matt black. Its curved lines improve the airflow and guarantee to keep your room temperature optimal.
You can control the AC unit with a remote control or a mobile app. Both ways are intuitive and easy to learn at first glance.
As for the specs, this is the quietest air conditioner with a sound level as low as 19 dBA on Silent Operation mode. The Emura reaches about 40-50 dBA when working on regular mode.
Daikin Perfera FVXM-A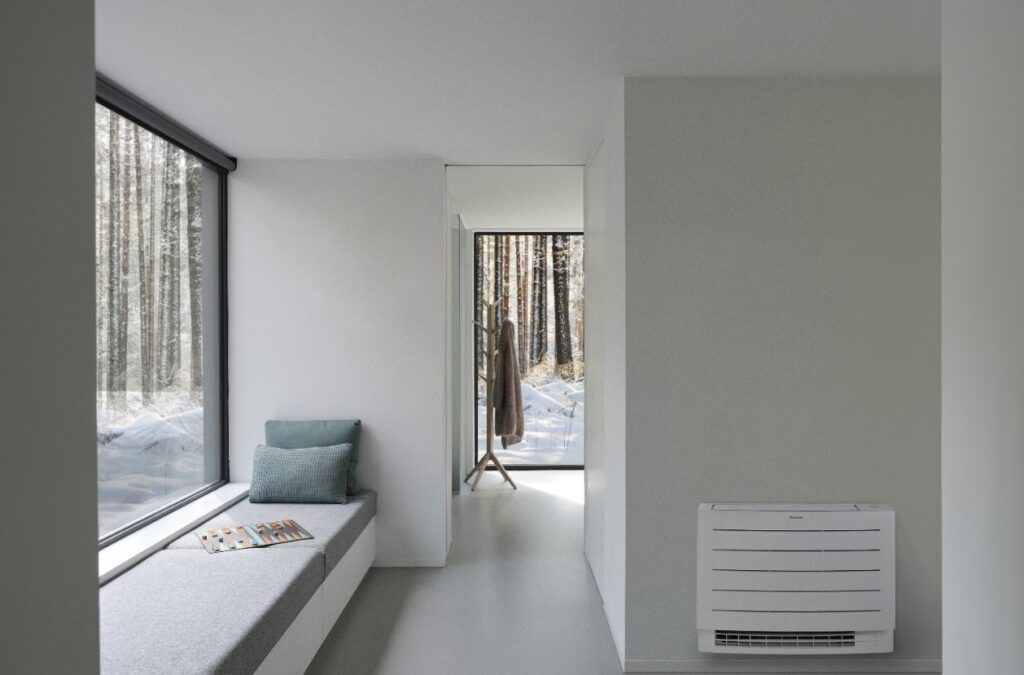 The second place of the quietest air conditioners belongs to Perfera FVXM-A from Daikin. The brand's AC units are designed to warm or cool your house without making much noise. This model is as efficient as its bigger brother Emura FTXJ-AB. The only difference is its design.
The Perfera unit is mounted on the bottom of the wall. Therefore, it distributes hot or cold air from the bottom to the top. Your home will be filled with fresh air, along with the heated or cooled floor as an extra advantage.
The Perfera is one of the quietest air conditioners; its sound level can be as low as 19 dBA when in Quiet operation. With regular mode, the noise can reach around 50 dBA, which is still a great result.
Carrier Infinity® 26 Air Conditioner with Greenspeed® Intelligence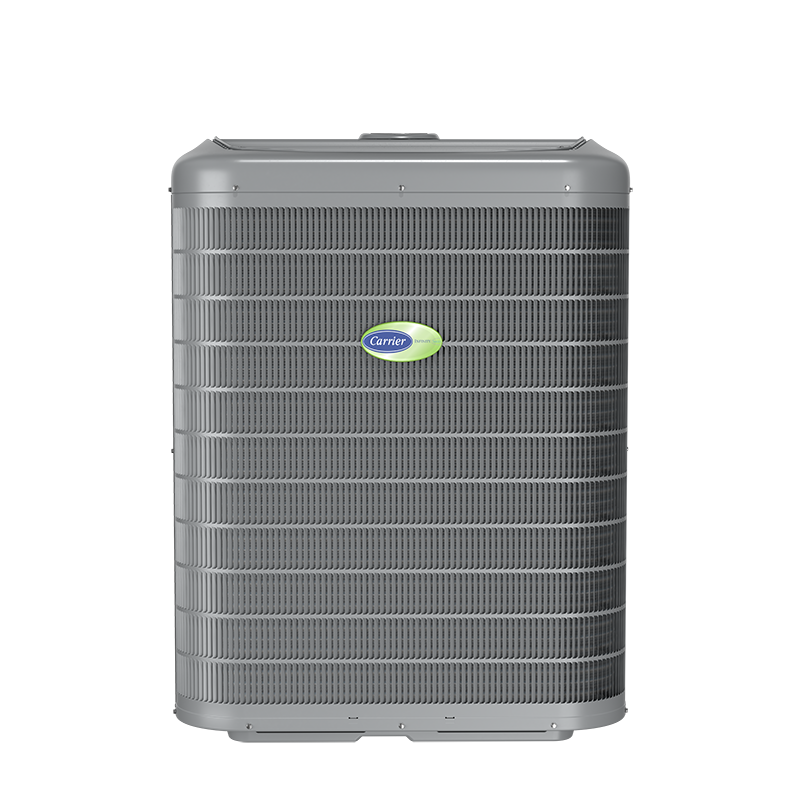 The list of the top three of the quietest air conditioners closes out with the Infinity 26 from Carrier. Its innovative Greenspeed intelligence manages the output to suit your home perfectly and is able to remove up to 400% more moisture when compared to a traditional system.
The variable-speed compressor works continuously to deliver steady airflow and a consistent temperature. Another nice addition is that the air conditioner works efficiently to save on energy and money.
As for the sound level, Infinity's outdoor level is 51 decibels. The model is very silent as a result of being a ducted air conditioner.
York YXV 21 SEER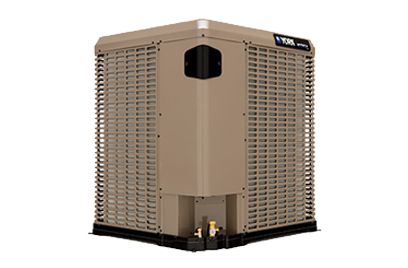 If you are looking especially for an energy-saving air conditioner, the York YXV 21 SEER could be perfect for you. You can adjust the temperature exactly to match your comfort. This model features a Climate Set feature that works in tune with the indoor and outdoor temperature to determine which level of heating or cooling would be perfect for you.
In addition, this smart air conditioner adjusts the temperature quickly (and quietly) without consuming too much energy. You will be able to enjoy the ideal temperature while also reducing costs when it comes to your energy bill.
The York YXV 21 SEER is relatively silent. Its sound level can be as low as 53 dBA, which is equal to a quiet office environment.
Daikin FVXM-F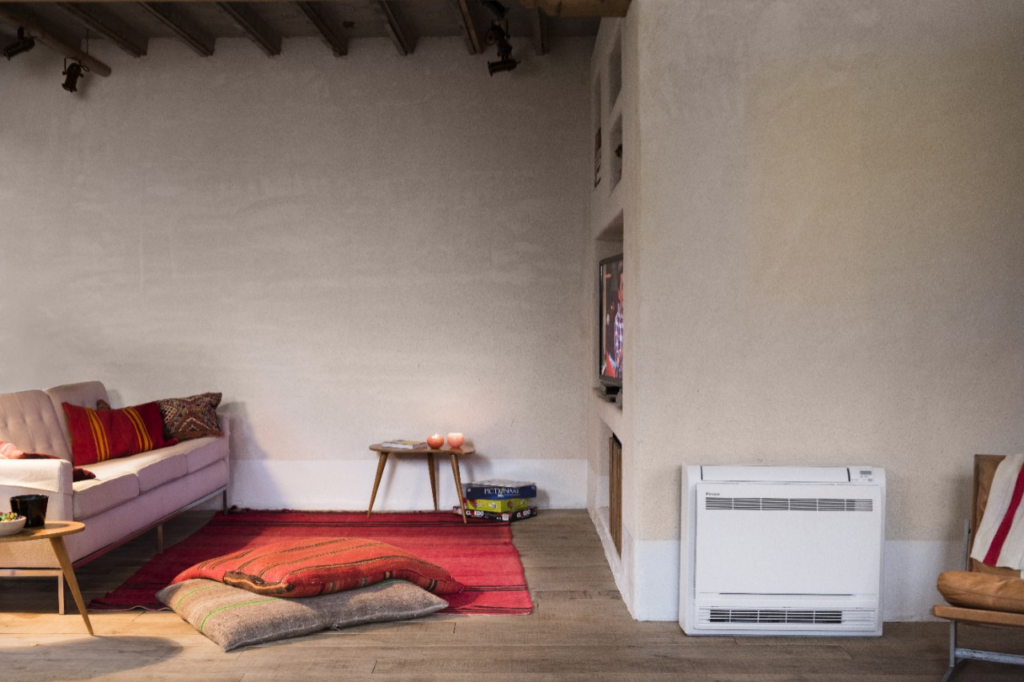 The FVXM-F from Daikin is a perfect purchase decision if you want to keep your air conditioner running all night long. It has a function where only a fan works without heating or cooling the air. It also has a Night mode, where AC prevents your home from reaching extreme hot or cold temperatures automatically.
One of the great advantages of this model is you can remotely control it from an app on your phone. You can set your AC unit to cool or heat your home from anywhere you are, even if you're not at home. Imagine coming back after a long day at work to find your house is already at that ideal temperature – awesome! The Daikin FVXM-F is perfect for you if your comfort and convenience are a top priority.
The FVXM-F works a bit louder than the other AC units on this list. However, it can run at as low as 55 dBA, which is similar to the noise of your refrigerator.
Daikin Sensira FTXB-A

If you're looking for quality and efficiency, then the Sensira FTXB-A from Daikin is great value for money. What is special about this unit is that it's particularly good at reducing the environmental impact you're having. In addition to that, this also means lower energy bills.
The Sensira FTXB-A consumes 80% less energy than similar appliances when on standby. This technological innovation is really worth the money in the long run. You can also control the temperature from the app at distance (just like most Daikin AC units).
The sound level of Sensira is about 55 dBA, so you will be able to focus and carry on doing what you enjoy. The air conditioner will not be a distraction even at night.
Trane XV18 TruComfort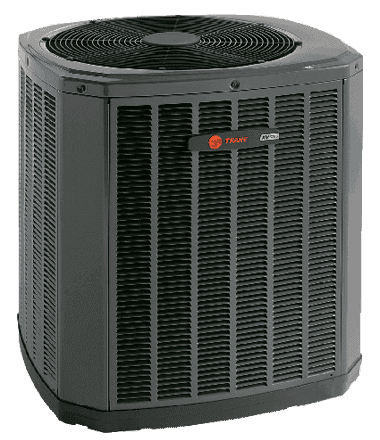 Trane XV18 TruComfort is a much-loved air conditioner on the market right now. You should think about this model if you are particularly interested in longevity.
The XV18 TruComfort cleans the air it provides from dust and irritants so that you can have peace of mind. If you have kids at home or suffer from allergies, clean air is probably a top priority.
Another nice feature you will be able to enjoy is the precise cooling. The air conditioner keeps your home temperature adjusted at all times. It constantly regulates the speed and energy consumption so that it matches your comfort level.
What is great about the Trane XV18 in addition to all this is that it isn't loud. Its sound level can be as low as 55 dBA. You will be able to enjoy a conversation without having to yell to be heard.
Trane XV20i TruComfort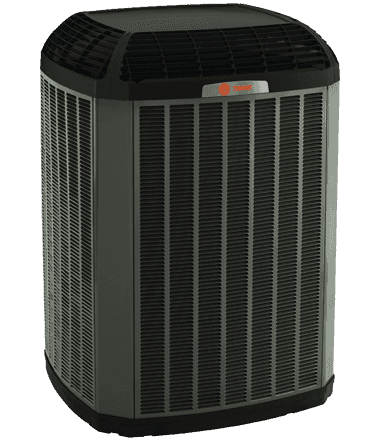 Another air conditioning unit from Trane is the XV20i Tru Comfort. It doesn't differ much from its brother the XV18 TruComfort. The XV20i has all the same useful features that include precise cooling, energy efficiency, and a feature to clean the air from harmful particles.
The XV20i stands out from other models in the TruComfort series by its efficiency rating. It is rated 22 SEER, compared to the 18 SEER rating of XV18. In essence, the higher the SEER rating, the less money you are going to pay for your electricity at the end of the month. So although more efficient models may be more expensive upfront – you'll make the money back in energy savings eventually.
As for the sound level, it usually runs at about 55 dBA and reaches about 75 dBA at full power – nothing too major at all.
Daikin Sensira R-32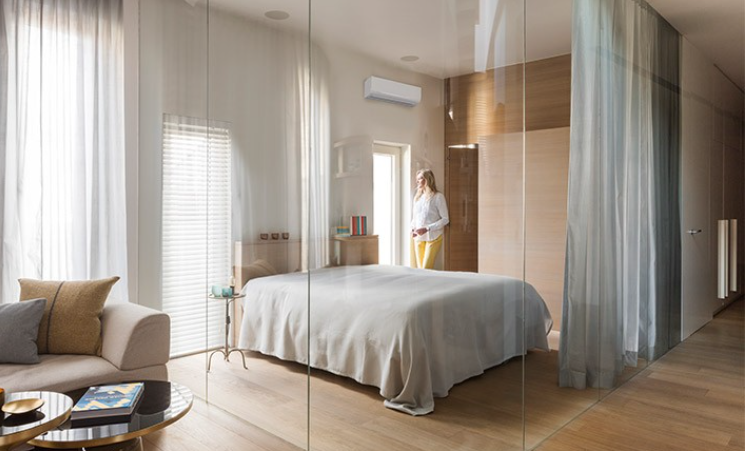 Daikin's air conditioners are all about efficiency, beauty, and comfort. The Sensira R-32 is no exception. The design of this model could suit the interior design of many homes. As for the technology inside, this AC unit has a feature that absorbs and removes bacteria and viruses. Your entire family will breathe only the freshest air!
You can control the Sensira R-32 from a sophisticated app. There, you can set time frames, adjust the temperature, and track how much energy is being used.
The noise level depends on the mode. It can reach about 55 dBA when the Power mode is activated. However, you can significantly reduce the noise to 21 dBA by activating the Silent operation mode.
Lennox SL28XCV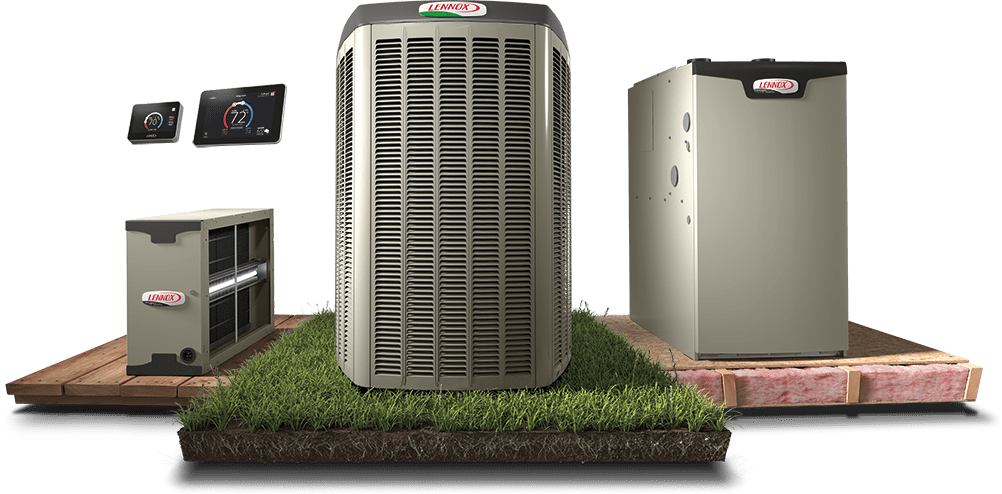 We have mentioned before that the higher the SEER rating, the less energy that will be used by your AC unit. The Lennox SL28XCV is rated 28 SEER. This means this model excels at saving energy and reducing your energy bills. In addition to that, it is ENERGY STAR certified.
What makes the SL28XCV special is its Quantum coil. It is an exclusive Lennox innovation that can stand up to even the harshest weather conditions.
This exceptional air conditioner from Lennox has an average sound level of about 56 dBA. You can even run the air conditioner at a lower speed to reduce the noise level and make it almost inaudible.
Carrier Infinity® 19VS Central Air Conditioner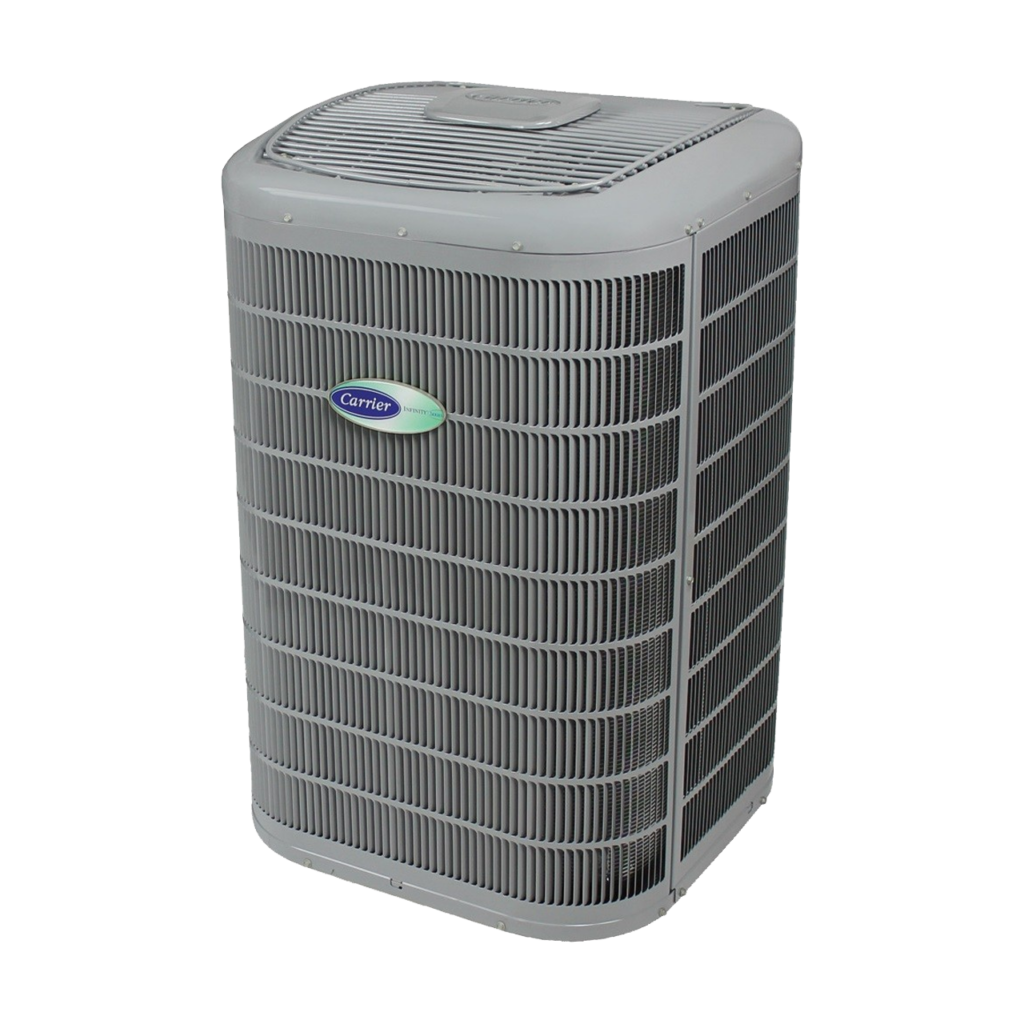 What sets Carrier Infinity 19VS from other AC units is its humidity control. This model is ENERGY STAR certified with up to 19 SEER. It can work longer hours to reduce humidity at your home for a lower energy cost.
You can also easily regulate its speeds; it has not one or two options but a full 5 speed settings. You won't have any problems adjusting the temperature to your comfort level quickly.
The Infinity 19VS is one of the quietest central air conditioners, running as low as 56 dBA. The noise level is much lower at slower speed settings.
Frequently Asked Questions
What is the average lifespan of air conditioners?
The average lifespan of air conditioners is about 15 to 20 years. However, every unit is different, and your air conditioner can last even longer than that provided you run regular maintenance. The most frequent issues Meadow Air deals with are:
Water leaks
Insufficient airflow
Fan stopped working properly
AC doesn't turn on
Some problems can be quite costly to fix if you don't get them dealt with straight away. That's why you must have regular check-ups to avoid any malfunctions.
Who has the quietest air conditioner?
The top pick on our list when it comes to low noise levels is the Daikin Emura FTXJ-AB. Its noise level can get as low as 19 dBA. The AC unit has multiple modes with different energy consumption and noise levels. You don't have to adjust the temperature every time, as the unit automatically determines it and adjusts accordingly.
How to quiet air conditioner intake?
You can change the speed in the settings to reduce noise. The lower the airflow speed, the quieter your unit will work. If that doesn't help, you should check the air filters. It is possible that they are dirty and need cleaning.
Final Words
The top three quietest air conditioners are the Daikin Emura FTXJ-AB, Daikin Perfera FVXM-A, and Carrier Infinity® 26. Other AC units are slightly louder, but in most of them, the sound level can be reduced with the right settings.
When choosing the quietest AC unit, pay attention to the SEER rating and power output. You want your AC to run quietly but also give enough efficient power to warm up or cool down your home. In addition to that, you want to avoid paying high bills when running your AC during the night or for long hours.
Don't forget to run regular check-ups with Meadow Air. We offer reliable HVAC services in Arizona and special discounts for homeowners in the Valley. Get in touch today!