Skip to Content
How Often Should I Order Maintenance Service For My Air Conditioner?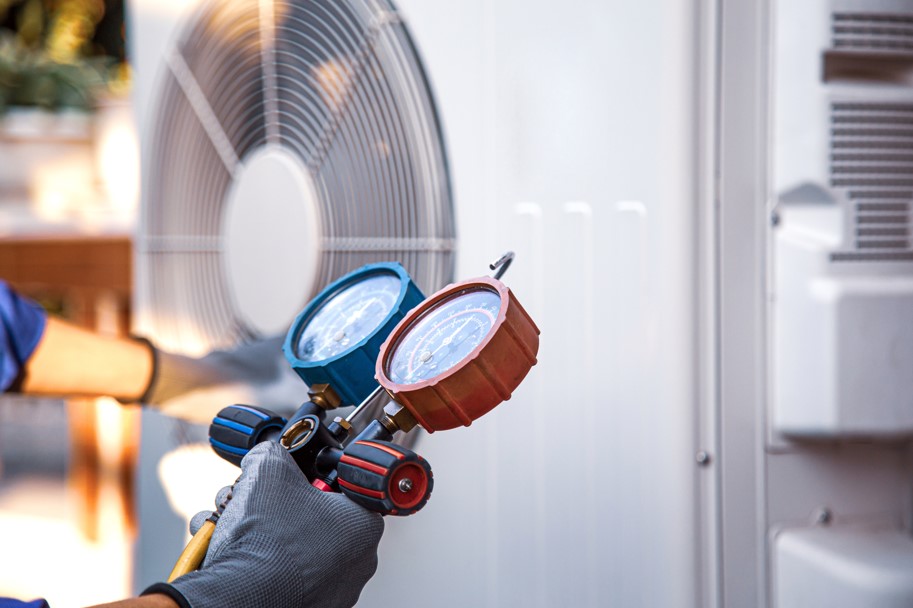 Every once in a while, we all need a good checkup. Going to see a doctor or scheduling an appointment with a mechanic is something we should be doing regularly. The same can be said about your AC unit. To benefit from efficient protection from the cold in the winter and heat during long summer days, it's necessary to perform cooling and heating unit maintenance.
But how often should air conditioning units be serviced? We answer this question in this article.
How Often to Service an Air Conditioner
You know the feeling when you come home from work, and you can't fully relax and decompress because you're met with a broken AC, and your home is uncomfortably hot, so you're forced to address the problem immediately? That feeling is not a pleasant one.
Years of experience in the industry as AC experts gave us a good insight into the most common struggles people go through with their air conditioning units. Thanks to that, we know the key to peaceful days and nights is conducting regular maintenance of the units.
This way, we can detect any problems early and fix them in no time, leaving you with a unit that will perform flawlessly throughout the whole season. You can forget about unexpected malfunctions and costly repairs – in most cases, regular checkups eliminate the risks of those.
And how often should you be scheduling maintenance appointments for your AC? Our recommendation is to do it once a year. This is a good timeframe to work with since you want to make sure your unit is ready for the new season and that you will not be facing any unexpected problems in the middle of a heat wave.
Is It Necessary to Service AC Every Year?
Yes, servicing your AC every year is the best practice for several reasons. The most important one is related to how much money you will have to spend on your AC. Undetected problems can turn into expensive repairs in the future, which is not beneficial for your wallet and can cause you more headaches than necessary.
You can expect to pay a couple of hundred dollars for a yearly appointment with our technicians, and often, if the fixes are simple, it will amount to less than that. However, more significant issues that were ignored for a long time can cost you even $1,000 to fix. A new AC unit can amount to $10,000 which is a good enough reason to invest in maintaining your current AC system. This way, it can serve you for much longer.
There is also the issue of efficiency and how it changes over time. It is estimated that an unserviced AC unit can lose even 5% of its efficiency per year, not to mention it uses more electric energy to run, which means higher electricity bills for you. And you can expect your unit to be more overburdened, reducing its lifespan significantly – even up to 50%.
Meadow Air technicians can make sure your AC runs smoothly and efficiently at all times, saving you money and stress.
When To Schedule Maintenance
We've established that yearly maintenance is a must-have for every AC owner. But when is the best time to plan such an appointment? As you can probably guess, there are better and worse periods to perform AC maintenance. Let's discuss when is the most suitable time to do a checkup of your AC.
Checkups in Winter
Winters in Arizona are fairly mild, which means that you probably will not have that many occasions to run your AC. Doing maintenance work at the end of the summer season could be an option, but if you care about preparing the unit to run smoothly and without any hiccups, there may be better choices than winter maintenance.
Still, even Arizona residents should remember to winterize their AC systems. Winterizing is simply preparing the unit for winter months when the temperature is lower and the unit is not being used.
You can decide to schedule an appointment to winterize your air conditioner with AC technicians, or you can perform it yourself. It's something worth keeping in mind, as temperature drops will not do any good to the unprepared AC unit.
Checkups in Summer
Doing your AC maintenance in the middle of the summer season is not the most practical solution as well. You may be forced to live without AC for a couple of days if there are any repairs to be made, which can be problematic in the middle of a heat wave. Many people schedule their AC checkups at the beginning of summer, which makes sense – this is the last chance to prepare air conditioners for the upcoming season.
Of course, after winter, it's a great time to check if everything runs smoothly and if lower temperatures and the stagnation period didn't cause any damage. But it's also the time when AC technicians are the most booked, which means you might have to wait for your appointment.
When would be the best time to schedule maintenance?
The Right Answer – Spring
It's the perfect compromise. Spring is the best time to do checkups on your air conditioning system and perform any repairs. You are ahead of everyone else, which means there are more available dates to schedule the appointment.
The time between the winter and summer seasons gives you the perfect opportunity to prepare your unit for what's coming. This way, you can ensure your AC will perform without any unexpected problems throughout the summer, giving you comfort and peace of mind.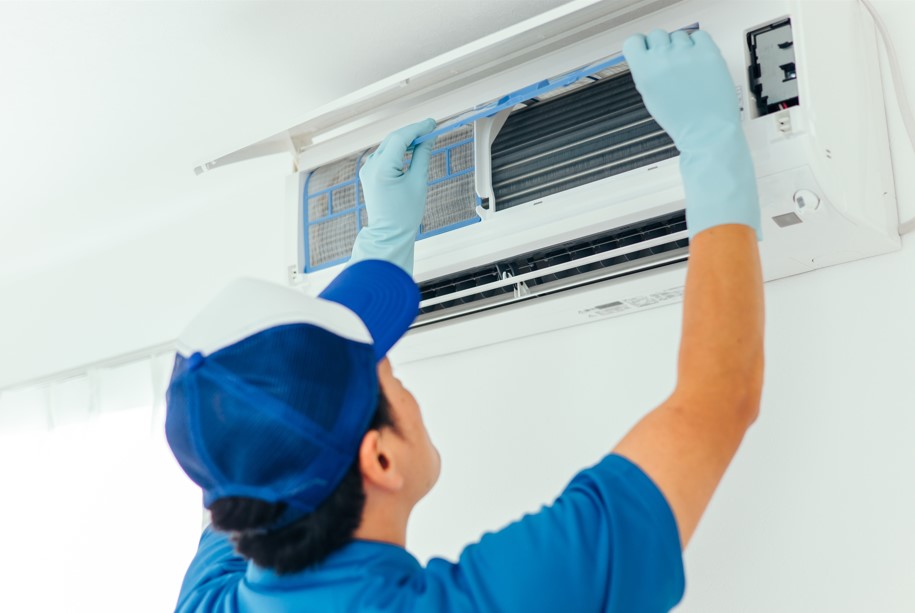 What an Annual AC Service Covers
What can you expect from the annual AC maintenance appointment? The main goal of the checkup is to evaluate the state of your AC, check if any problems should be addressed, and prepare it for use.
During an appointment HVAC technician will:
visually inspect the whole HVAC system;
clean the unit of dust, dirt, and debris;
replace the air filters;
inspect the indoor and outdoor coils;
check if the thermostat works correctly;
inspect the condensate pump;
offer you advice on how to maintain the unit in good condition and how to spot any problems.
How Long Does HVAC Maintenance Take?
Normally, a maintenance appointment won't take longer than two hours, assuming you regularly check the system's condition. If there is a need to do any repairs, your air conditioning system might be out of order for up to a couple of days. It will depend on the severity of the issue.
Final Thoughts
As we hopefully showcased in this article, regular maintenance of your HVAC unit is something you shouldn't skip. In the long run, it can save you money and allow you to enjoy a cool breeze in your home during the hot summer months without fear that your system will unexpectedly shut down.
Scheduling a maintenance appointment with Meadow Air is easy. You can call us (602-812-0648) or submit a form online, and we will get back to you right away to iron out the details. Trust the Experts in the industry with a passion for HVAC systems and years of experience, and make sure your air conditioning system is ready for action no matter what.